As a teenage metalhead, of course I listened to Black Sabbath. Never quite loved them, though. When I was in college, Dio Sabbath (i.e., Black Sabbath fronted by vocalist Ronnie James Dio) came out with the albums "Heaven and Hell" and "Mob Rules," both of which I loved. Then I fell off Sabbath again. And got old.
Recently I learned (from RazorFist's YouTube series "Metal Mythos") that Dio Sabbath, calling itself "Heaven & Hell" (because Ozzy Osbourne, their original vocalist, had legally blocked the "Black Sabbath" name), released an album in 2009, called "The Devil You Know." Of the Dio albums, it is now my favorite. The Sabbalicious track "Follow the Tears" simply... pounds.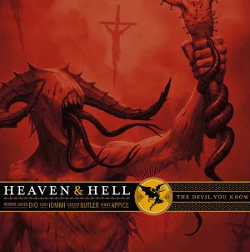 Yes, I am a traditional Catholic, and yes, I have listened to a fair amount of "Satanic" metal. Make of that what you will. While holding no brief for Satan, I must say that Catholicism has always been a bit metal. Eating the body and blood of your God is not for the weak-kneed.
P.S.
Apparently there was a fourth Sort-of-Dio Sabbath album, released in 1992. Missed that one, too. However, given RazorFist's discussion of it, it does not attract me.