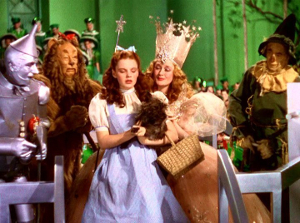 There's a misalignment in
The Wizard of Oz
.
What is its moral? "There's no place like home." Dorothy has found herself in a land over the rainbow, and yet her ultimate desire — the fulfillment of which she asks of the Wizard — is to return to Kansas. Near the end, Glinda prompts Dorothy to articulate the lesson that she, Dorothy, has learned; and Dorothy replies:
If I ever go looking for my heart's desire, I won't look any futher than my own backyard. Because if it's not there I never lost it to begin with.
This lesson, of course, accords with the narrative facts that the Scarecrow, the Tin Man, and the Cowardly Lion each already had the thing he sought. The Scarecrow was already brainy; the Tin Man, full of heart; the Lion, courageous. And Dorothy, in Kansas, already had the place most free of trouble: her home with Aunt Em and Uncle Henry.
"There's no place like home" has certainly stuck. The phrase is a commonplace. And yet, in the movie, what is the initial counter-sentiment? That there is a better place "somewhere over the rainbow." And this does not persist as merely a phrase. This sentiment was given a
song
, a song used in the opening and closing thematic music, a lovely song that has been counted among the most popular and greatest songs of the 20th Century.
Nobody sings, à la Dorothy, "There's no place like home." There's nothing to sing.
In other words, the delusion that grips Dorothy, that there is a place where troubles melt like lemon drops, away above the chimney tops, where skies are blue and dreams really do come true, is given the tremendous, emotional weight that only song can impart. While, on the other hand, the truth she finally discovers is presented in a brief speech — which, while not necessarily platitudinous, is certainly nothing worth humming.
This is a great danger in creating a work: That something tangential — or worse, contrary — to your theme is given a greater prominence, a better presentation, a more memorable form, than the point you are trying to make.
When writing, I have often worried about expending artistry on this or that small scene or second-tier character. I fear my reader will like my villain more than my hero, or find the collapse of my characters more interesting than their restoration. It is a hard thing to make the proper alignment; to best present what should be presented best.
Some contemporary critics of
The Brothers Karamazov
argued that the devilish points of Ivan Karamazov, as given in "The Grand Inquisitor" section, were more compelling, more
substantive
, than Alexei's Christ-like response. They argued that Dostoevsky had not really addressed Ivan's points. Dostoevsky replied (perhaps with some exasperation) that the
entire novel
was the response to Ivan.
One could likewise say that, however compelling may be
Somewhere Over the Rainbow
, it is countered not merely by some speech at the end of the movie, nor by some brief chant with ruby slippers, but by the movie
as a whole
. Perhaps. Whether
The Wizard of Oz
successfully establishes that there's no place like home is a bigger question. I'm not sure it does, beyond somewhat artfully
asserting
the point. In the end, the writers should have worked a little harder and come up with a compelling tune for
There's No Place Like Home.
I know that "there's no place like home" didn't originate with
The Wizard of Oz
(however much the movie has claimed it). And I know that there is a very old and popular song with that very lyric ("Be it ever so humble..."). And so, yes, the writers, had they written a new song, would have been contending with a standard.
Could they argue they were
alluding
to that standard, which was possibly more well known in the 1930s, and therefore they didn't
need
to write their own? I suppose. But the allusion, if any, is weak, and still profoundly overshadowed by
Somewhere Over the Rainbow
, which resides right there in the work and not in some presumed cultural background.