During the first half of 2001, I worked on developing
Maryoku Yummy
for American Greetings. It was work-for-hire. AG had already established the fundamentals — cute little characters with a Japanese patina — and I was tasked with contributing to a potential Bible for the Maryokuverse.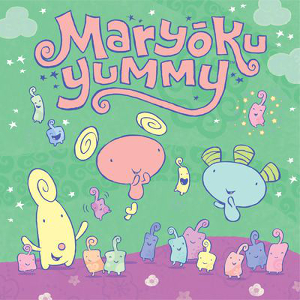 Basically AG had the character designs and their names and their basic dispositions. I did not conceive
Maryoku Yummy
. But, I did a fair amount of enrichment and development. That is, I
proposed
a fair amount. In the end, they accepted my content, paid me, and... that was that.
Maryoku Yummy
, while not shelved exactly, was somewhat de-emphasized.
It wasn't until recently that I learned there had been a
Maryoku Yummy
cartoon in 2010. I presume that there had been some greeting-card miscellany as well in the preceding years (and perhaps since). I've watched a couple of the episodes. I've seen nothing of my ideas, but even if I did, it wouldn't matter to my career. It was work-for-hire. AG owns what I gave them.
One thing I did notice is that the cartoon seems to revolve around a magical world of
wishes
. The original conception — again, not mine, but embraced by me — was that
Maryoku Yummy
would revolve around a magical world of
friendship
. That was more affecting and fun. "Wishes" seems almost... I don't know, narcissistic and greedy.
In any event.
Part of my work was to write several stories demonstrating my ideas. The hope and expectation, frankly, was that those stories would be in actual
Maryoku Yummy
books.
I'm pleased with everything I wrote. I treated the stories seriously. They were in my voice with my plots and core ideas. It was exciting work. It seemed a shame to me that it all vanished into the great File Folder of Never Mind.
Two of the stories were sufficiently strong to be recast and exist independently of
Maryoku Yummy
. But, despite my off-and-on ruminations about doing so, I didn't salvage one until 2017. And then, this week, I salvaged the other.
I've spoken before about my character Pugnacious Footefake, the only survivor of a children's novel that crashed. Over the past three and a half decades I have used Pugnacious to reclaim ill-fated stories that deserved reclamation. I've certainly written original Pugnacious stories, but it's amusing how many are salvage jobs.
For some reason I have been unable to write more than a few stories about Pugnacious. He is a perfect vehicle for silly fantasies and magical ideas. Yet... I have given him only eight misadventures. I think, in some ways, he's just too much from my authorial past.
Anyhow, I finally took him out for another spin in 2007. I reclaimed my Maryoku story "Number Crunching" as the Pugnacious story "Neighborhood Commerce."
Then, two days ago I woke up at four in the morning, feeling rather sick. As I could not get back to sleep, my mind fell to the usual patterns of despair and again I lamented Pugnacious's under-use. Earlier this year I had briefly attempted to give him the life of my Maryoku story "The Friendly Package." Now I resolved to finish the attempt. Even though I'm in the middle of another project, I spent the last two days finishing my Pugnacious story "The Capricious Package."
You can tell by the titles how Maryoku and Pugnacious bear rather different tones! But in the end I have salvaged a really cute story and done a good thing for poor Pugnacious.
If AG has used my two stories, somehow and somewhere, I suppose I am in some sort of legal breach by re-writing them. But hey, they're
my
stories. I invented what I re-used. There's nothing Maryoku about "Neighborhood Commerce" or "The Capricious Package." They're all Pugnacious now.
P.S.
All of my Pugnacious stories, including "The Capricious Package," are available in
Sideways of the Earth
.