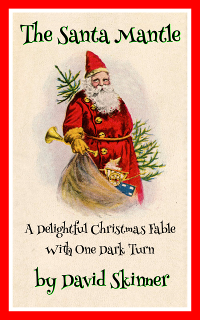 My works that I think are worth preserving have been identified and preserved in one book or another. The other works are on the scrap heap. My judgments of worth were made over the past decade or so, and I had thought the judgments were done.
Weirdly, though, yesterday I was reminded of a story that I scrapped long ago. I can't quite reconstruct my judgment against it. It was, of course, repeatedly rejected, but that isn't determinative. It may have gotten swept away by my general disillusionment with juvenile fiction. I think I was annoyed by its "dark turn." I just couldn't write anything without a splash of grim, even a children's storybook.
Anyhow, yesterday I re-read it and — heck, it's pretty good. Good enough to work up into a Kindle freebie. So, for a little while (December 22nd through 26th), you can get
The Santa Mantle
for free at
Amazon
.
By the way, that is not the original title. The original title was very lame. I came up with "Santa Mantle" yesterday. Pure inspiration.
P.S.
Does this mean my scrap heap hides other unjustly discarded works? Not likely. Although, in this listless and boring period of pandemic and political collapse, maybe I'll take some time to double-check...