The first part of this was posted on September 13th. I decided to combine the two parts into a single post. I also changed the title.
My father and I didn't do a lot together. In part he was simply seldom around. He was in the restaurant business — as cook, as manager, as owner — and the hours were atrocious. He was also not given to
fraternizing
with his children.
In fairness to him, I was a difficult and solitary nerd.
Once, in the late 1970s, he took me to a signing with several SF authors. He had no taste for SF. He did this for me. Anyhow, I didn't know who would be there. As it was, I had read none of them. I think one was Frederik Pohl. Another was Ben Bova. Somehow I (and my father) ended up hanging around Bova — probably because he was the only one I really knew, since he had been Editor of
Analog
, to which I subscribed.
I remember only one thing that Bova said. An attending nerd (not I) brought up
Space: 1999
. Bova recounted some conversation he'd had with Isaac Asimov about that very subject. Seems that neither Bova nor Asimov cared much for
Space: 1999
. Bova's contempt was rather clear.
I loved
Space: 1999
. I was just a teenage boy, self-conscious beyond measure; and already disappointed by the lack of
my
favorite authors at this little signing, I was... well, hurt. I didn't get indignant. I didn't get angry. I was stung. And it hurt as well because Bova wasn't wrong.
Space: 1999
, while not contemptible,
is
a little bad; and I knew so even then.
I think at that point my father was waiting in the car. I hung out a while longer. Then, having half-heartedly obtained an autograph from Bova, I left. I'm grateful my father took me. But it's a melancholy memory.
Today is the 20th anniversary of the day that the denizens of Moonbase Alpha were cast into the cosmos. On September 13th, 1999, concentrated nuclear explosions on the farside of the Moon propelled the Moon out of orbit. The Alphans, unable to return to Earth, found themselves adrift on an uncontrollable Moon. They left our Solar System far behind, on a path towards — adventure!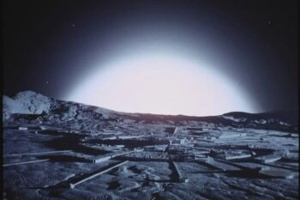 Well, of course it's preposterous. I'm not going to go over all the
stupid
that is required for
Space: 1999
to work. It
can't
work. Science is ashamed of
Space: 1999
. And of course you know what I'm going to say.
Who cares.
You must recognize how simply
magical
the premise is. We're not dealing with the
plausible
. Yes, the creators thought they were writing Real Science Fiction. But they were hacks; a bunch of Ed Woods. They had a cool idea and they ran with it. Because it
is
a cool idea. An awesome idea. You know it is. The wonder of traveling to the stars on the Moon!
You must also recognize that
Space: 1999
is not
Star Trek
or
Star Wars
or
Stargate
. It is
not
an adventure show.
It is a Nightmare.
This crystallized for me only tonight. I'm embarrassed that I never had this insight. All the pieces were already there; yet only tonight did the epiphany come. I was listening to a livestream hosted by Doomcock (whose
nom de YouTube
is Overlord DVD). Doomcock, in honor of the date, was chatting a bit about
Space: 1999
. He asserted that
Space: 1999
is not SF but HORROR. He really didn't elaborate a lot. He didn't have to. I knew instantly what he meant; and instantly I understood why I like
Space: 1999
, why it isn't complete trash, and why, despite everything, it can kind of
work
.
Part II
In many ways I was a conventional boy. I climbed trees. I raced bikes. I played ball with neighborhood kids. I built models of trucks and airplanes. I walked daringly through spillways and foolishly across the weirs of nearby rivers.
But I was also subtly peculiar. My sense of
human relations
was misaligned. This only worsened as my family, moving house constantly, refused to stay rooted, and I was always starting over with
knowing
people. I didn't cease to be social, as such; but I began my lifelong loneliness.
The odd thing about being lonely is that it's not necessarily a feeling you try to flee. Things suffused with loneliness do not repel me. They allure me.
And so here you have a science fiction show set on the Moon — the grey and lifeless Moon, whose settlers are not vivaciously dispersed beneath the sky but are packed away, contained in rooms and corridors and bound by vacuum; fellows in a harsh solitude, made harsher by their catastrophic expulsion from the hearth of Earth.
Loneliness pervades the show.
Do these lonely travelers come upon exotic wonders? Not exactly. Each planet they encounter is a chance to
escape
, not into diversion but into a
home
. And they are always frustrated. Sometimes the planet itself is hostile; sometimes the existing inhabitants are. In one episode aliens send terraforming equipment to the Moon precisely to dissuade the Alphans from attempting any contact. It seems the Moon could be home after all! Yet as soon as the Moon has spun beyond the alien world, the equipment is withdrawn and the Moon reverts.
Another time the Moon becomes a forward base for one side in an interplanetary war. Alpha is caught up in the fighting. Then the Moon passes on. Again the Alphans have been simply beset and returned to the void.
A couple of episodes (especially
The Testament of Arkadia
) hint that the journey of the Moon might be more than a mishap; that the Alphans may have an awful destiny and their trials may be other than pointless.
But no end is ever seen.
When the first child is born on Alpha — what greater hope is there than a child! — he is bodily hijacked by a violent being who seeks to end its own exile. And though the being is defeated and the child is restored, the lesson seems clear: The wandering Moon is no place for hope.
For even a child becomes a terror; a monster. The show does not deal in the merely alien. In its loneliness it proceeds, like a solitary sleeper, from nightmare to nightmare:
The Troubled Spirit; Death's Other Dominion; End of Eternity; Guardian of Piri; Force of Life...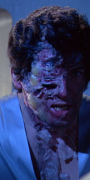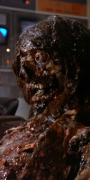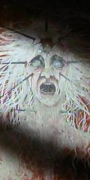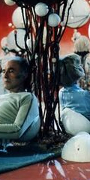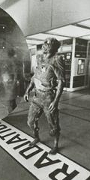 The epitome of this is
Dragon's Domain
, one of my favorite episodes.
Back in 1996, the crew of the Ultra Probe was killed by a monster. The commander, Tony Cellini, survived and returned to Earth. No one believed him, of course. He resumed service on Moonbase Alpha. And now, three years into the Moon's journey, Cellini starts to unravel. He senses the monster. Sure enough, the Moon has crossed paths with the graveyard of spaceships that includes the Ultra Probe.
The monster is not a guy in a rubber suit. True, it's obviously a practical effect; and one can discern the rubber in it.
Space: 1999
was not a big-budget affair. And yet it's a proper
monster
, if not scary then surely creepy. It's a Cthulhu thing with an oven for a mouth. The show played it as horror. It came off as horror.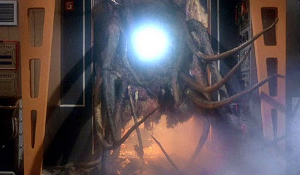 And that's kind of my point about
Space: 1999
. Another show would have played it for thrills or awe or heroic adventure. Instead we get moody, gloomy, creepy. They even use Albinoni's
Adagio
to set the tone.
Is
Dragon's Domain
a master class in television? Hardly. Like every other episode of
Space: 1999
, the stupid abounds. The acting embarrasses.
But. That
tone
. It's real. It's what elevates the show — at least enough. And you can know it is very real because the second season deliberately fled the gloom and sought
excitement
. And that second season, lacking nightmares and loneliness, is garbage. Even when I was thirteen I hated it.
That first season, though? In a culture that has managed to create
Firefly
and
The Expanse
, it is hard to praise, let alone recommend, a thing like
Space: 1999.
I will, however, defend it. It has an allure. Perhaps that's only the nostalgia talking; but for a lonely boy in 1975,
Space: 1999
was amazing — and I can't disagree with that boy.