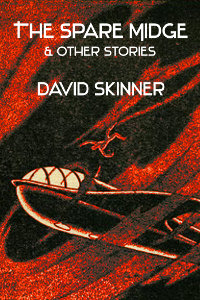 A man retrieves his hero from a starship's virtual storage before that hero can be arrested for murder. A girl who is not a girl awaits judgment against a city. A member of a crew sent to destroy a distant solar system learns his mother has petitioned for his death. A young man resolves to marry the intimate companion of the artificial Man in the Moon. A has-been hitman is now caregiver to a demon assassin. A girl at birth is mentally interlaced with her sister Midge; and when the girl is thirteen, she convinces Midge to rescue the implanted helper-sentience of a recently deceased warrior.
End of the Sigh
That's right. Timon is necro. Okay, okay, maybe my hack wasn't
that
hot. Timon's soul is still in its Jar. So sue me. We were
in sigh
. You try gasping a necroslur at point eight c.
The Girl With the Nuclear Bomb
She sent the spiders, six of them, no bigger than spiders and looking exactly like spiders, even if
stepped
upon they would seem like spiders, smearing like spiders, hair-thin legs in spider-smear...
Lament for a Sister
It is time to reduce this planet. That is why we are here. My being here has postponed the reduction. My annulment has not been approved; they can't let me be reduced. Were I reduced yet not to be annulled, that would be merely killing me, and mere killing of humyns is uncongressional.
The Courtship of Jay and Elusivebeth
But anyhow, cause of what the Man in the Moon did to cyberspace, eating it up and all, Old Jacks just really hate him and so they hate jammies and since Ellucy is a jammie any Old Jack, even Case, would have to call her Monster. But Ellie my heart is no monster: she's lovely, you know, and the Jacks got no right. Ellie may be nonhuman but she's soft: she's got a girl's body — her body, mine too, now, my wife: Nothing monsterish about my Elusivebeth.
Tainted by Grace
He raised his head to watch the client's window, seven stories up. The client's lamp was on. Above the eaves, Gideon saw the moon. Within a few seconds Grace had clawed up the side of the building, not as a young woman but as herself...
The Spare Midge
Within the Sling, as Midge and I settled into the baubleship and waited for the snap, I stared out at the sparkling tension of the aether and realized it was beautiful. I actually thought:
It's beautiful
. And I felt something then that Midge did not. She longed to escape, to get away, far away — and by the lace this filled me, too; but on my own, to my own surprise, I felt also the promise of a far place.
Amazon Link