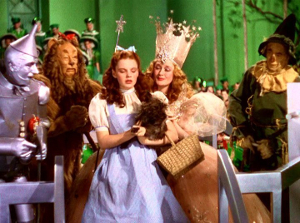 There's a misalignment in
The Wizard of Oz
.
What is its moral? "There's no place like home." Dorothy has found herself in a land over the rainbow, and yet her ultimate desire — the fulfillment of which she asks of the Wizard — is to return to Kansas. Near the end, Glinda prompts Dorothy to articulate the lesson that she, Dorothy, has learned; and Dorothy replies:
If I ever go looking for my heart's desire, I won't look any futher than my own backyard. Because if it's not there I never lost it to begin with.
This lesson, of course, accords with the narrative facts that the Scarecrow, the Tin Man, and the Cowardly Lion each already had the thing he sought. The Scarecrow was already brainy; the Tin Man, full of heart; the Lion, courageous. And Dorothy, in Kansas, already had the place most free of trouble: her home with Aunt Em and Uncle Henry.
