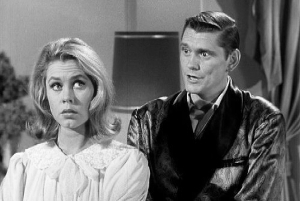 What does everyone know about
Bewitched
? It's about a free-spirited young witch whose uptight husband does everything he can to suppress her natural inclinations to magic.
No. It's not.
Go back to the first season, before the show became focused on the farce, and you'll clearly see its theme. Abandon the feminist distortions and you'll see that
Bewitched
is about two newlyweds, thoroughly in love, who are trying to establish a normal, suburban life.
