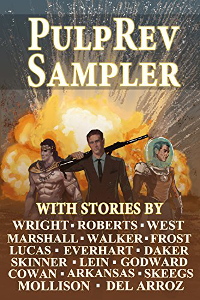 Back in August, the folks at
PulpRev
put out a call for stories. They wanted stories no longer than fifteen hundred words, and we aspirants were given one week to submit. Obviously, had I a suitable story lying around, I could have simply polished it a bit and leisurely submitted it; but I entered the spirit of the call and wrote a fresh tale.
I took a very old, tiny idea that had never become the novel I imagined — "A king on the run refuses to abdicate" — and combined that with a little pulpy weirdness, and created
The King's Portion.
You can get the sampler by buying it directly for all of 99 cents at
Amazon
or by signing up for the PulpRev mailing list (details
here
).
Go, now! Become enjoyified!
P.S.
As with
StoryHack
, it was nice working with the
PulpRev
folks. If nothing else, the Pulp Revolution does not treat little-known authors with disdain!